From an Idea to reality
Design, Manufacture, Installation, Commission, Training, Service, and Maintenance.
We 4 Maintenance Technical Services LLC current Team is made up of Electrical and Electronics Engineers, Mechanical engineers, CAD designers, Service and Project managers, Trainers, qualified Electricians, Fitters, Machinists, and Fabricators. This combination of skills and our vast experience allows us to create almost any industrial solution no matter the size or location.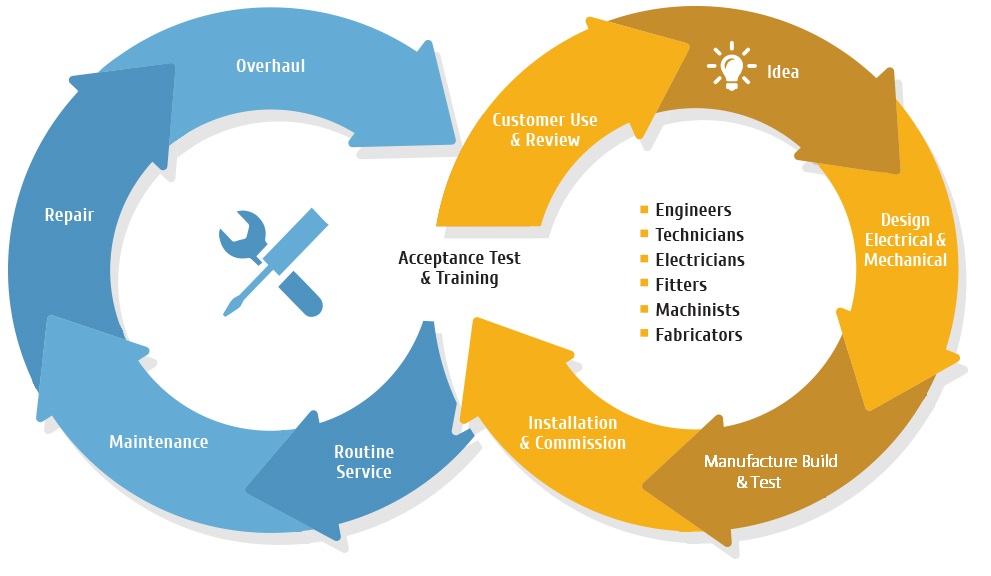 The EMS process allows us to take a customer's ideas and fashion them into a design that meets their needs. We can then manufacture the parts needed and assemble them into a complete working piece of equipment for testing – this may lead to redesign, alterations or additions until the customer is happy.  We 4 Maintenance Technical Services LLC can then install and commission the equipment, providing manuals and training as required.
Once accepted and in-service We 4 Maintenance Technical Services LLC can support the new equipment with routine servicing and maintenance, breakdown support, and overhauls if required.
We 4 Maintenance Technical Services LLC is expertise in performing various tasks in the field of electrical & mechanical services with extensive knowledge and experience of our team. We 4 Maintenance Technical Services LLC is mainly focusing on the field of electrical and mechanical installation repair & maintenance services.
Services include:
Machinery Breakdowns such as Garden Equipment, Industrial Equipment, Car washers, packing machines EOT Cranes, or any type of customized machineries
WE4M also can accept engineering challenges to fulfill all your industrial mechanical and automation needs with customized with PLC, SCADA, BMS and required computed solutions
We4m is one of the Efficient Residential & Commercial Plumbing services which is trusted by more than 650,000 people. We are just a call away. 058 4394 7644, 058 1102663
Services & Maintanance
Breakdowns cost your business thousands of dirhams in lost production and idle staff and in some cases can lead to dangerous situations that affect the safety of your workers. That is why it's critical to the business that maintenance and repairs are carried out regularly by specialist electricians and mechanical fitters who can quickly identify and repair any problems.
You need 24/7 breakdown support and you need regular scheduled maintenance support to meet your obligations of compliance.
We 4 Maintenance Technical Services LLC has a large fleet of well-equipped vehicles manned by skilled and experienced servicemen for onsite servicing and repair and we offer 24-hour breakdown support.
We 4 Maintenance Technical Services LLC also offers Scheduled Maintenance which ensures to operate reliably saving your company time and money. We 4 Maintenance Technical Services LLC uses the latest computer technology to manage these schedules for you and ensures that you have the correctly certified and qualified serviceman for the job as well as any specialized equipment or access platforms.