Prevention is Key
Throughout history, we have always approached pandemic disease control in a reactive and responsive manner. However, as the old saying goes, "prevention is better than cure". Today, science has crossed the threshold into having organizations and governments recognize the importance of prediction and prevention, to stop deafly bugs before they spread. While scientists all over the world have stepped up their efforts in disease detection and research to develop new vaccines, there are two simple things we can do by ourselves.
Automatic Hand Sanitizer Dispensers
For extra hygiene and to give your staff and visitors that extra peace of mind, we do recommend an automatic model. You don't need to touch the dispenser, so this will minimize the number of harmful bacteria on the surfaces in your washroom. By investing in a hands-free model, you will be able to keep your washroom cleaner and safer in the long run. The automatic hand sanitizer dispenser is ideal for places such as hospitals, shopping malls, retail stores, offices, restaurants, etc. The infrared sensing technology ensures that the liquid spray is 100% touch-free, preventing any type of cross-infection. Users can get their hands sanitized without touching the surface or button.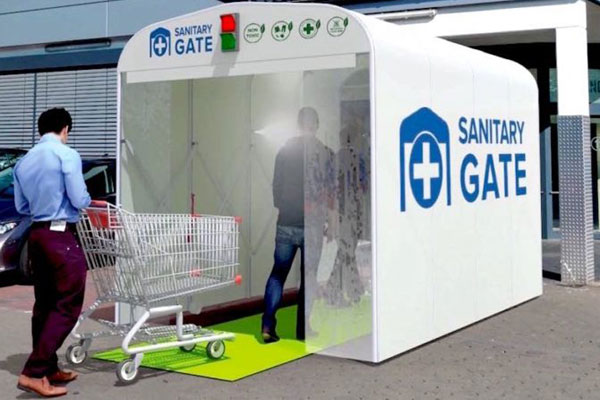 We4m is one of the Efficient Residential & Commercial Plumbing services which is trusted by more than 650,000 people. We are just a call away. 058 4394 7644, 058 1102663
Why Choose Us?
The first is our expertise in the field, from our advisors who deal with customer queries to the technicians who fit the hand sanitizers. The second is our commitment to the environment. We work with green-minded companies, setting up an Eco-friendly supply chain. We also try to keep our own harmful emissions to a minimum. Thirdly, we are always punctual, and can be counted on to install your new dispensers at a time that's totally convenient for you.
Get in Touch Today!
If you are interested in adding wall hand sanitizer dispensers to your washroom, then be sure to get in touch with us without delay. Whether you are opting for a manual model or want to upgrade to an automatic dispenser, we will be able to tell you which of our products will be the right choice for you. We have an option for every budget, so whether you are a small business or a large concern, you'll be able to create a washroom that is a pleasure to use
Work smarter: choose easy servicing
We will install and maintain all your dispensers and make sure you never run out. We'll assess your needs and work out the servicing schedule based on an assessment of your usage. We'll also maintain your dispensers and ensure they look good and are always in working order.
Maintenance and delivery schedule tailored to suit your exact needs.
Schedule based on a thorough in-person survey of your needs.
Peace of mind that your hygiene needs are taken care of.
We are a UAE-based service provider of automatic, touchless hand sanitizer dispensers. We are based in Dubai, however, we also offer our services to all the other emirates Abu Dhabi, Sharjah, Ajman, Fujairah, Ras Al Khaimah, and Umm Al Quwain.