It's important to take care of your air conditioning unit so it lasts longer, works better, and helps you keep energy costs down. Air conditioner maintenance is important to ensure an efficient and reliable unit that will serve you for years to come. When your conditioned air isn't cold enough or is humid, it's time to schedule air conditioner maintenance service.
Air Conditioner Maintenance Checklist
There are a few things homeowners do to ensure their air conditioner keeps running as efficiently as possible all year long. Homeowners can easily do some of these themselves, other tasks should be left to an air conditioner maintenance service professional.
Here are a few tips for preventing problems from developing with your AC unit:
Remove brush and debris near the unit.

Clean the condenser coils every spring.

Replace any HVAC air filters.

Check for loose contacts or electric connections.

Lubricate motors and bearings.

Recharge refrigerant.

Ensure the condensate drain is clear.
Professional Air Conditioner Inspection
Another important part of maintaining your AC unit is scheduling an annual air conditioner maintenance service—ideally before the cooling season begins—in order to make sure it is working as efficiently as possible. WE4M Total Comfort Tune-up will ensure that your air conditioner is in tip-top working shape and that it will last for years to come. Plus, our experts at WE4M can address smaller problems that could grow into larger and potentially costly issues in the future.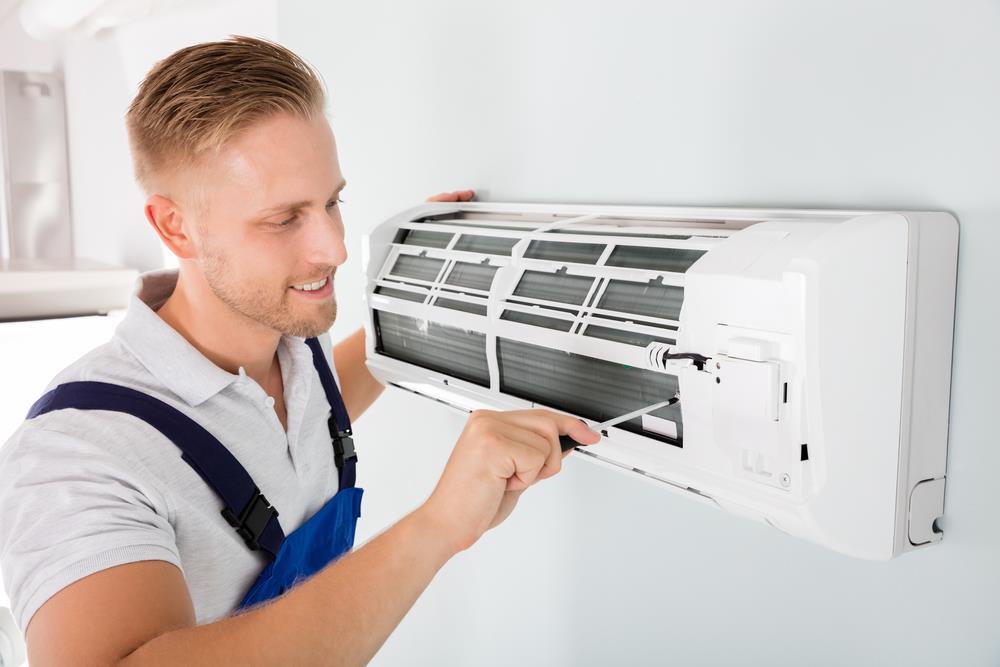 What Type of AC Unit Do I Have?
There are a number of different types of AC units and air conditioner maintenance will depend on the type of unit you own.
Some common AC units include:
Split system units, which make use of an indoor and outdoor unit.
Ductless split systems, which use indoor and outdoor units but without a duct system.
Packaged air conditioners, which sit outside.
Is It Time to Repair or Replace Your Unit?
Other factors to consider include overall investment costs, long-term operating costs, and utility rates. Our HVAC experts can help you make these decisions.
Professional Air Conditioner Maintenance
An air conditioning unit is expensive, which means the last thing you want to do is purchase another one. Sometimes, repairing an AC unit might not be the best option. An older unit that has undergone multiple repairs should probably be replaced. When this is the case our air conditioner replacement services have you covered.
Don't sweat it out this summer and ensure your AC unit will perform efficiently and reliably. When your AC unit needs service or maintenance you can depend on the HVAC experts at We 4 Maintenance Technical Services LLC.
We4m is one of the Efficient Residential & Commercial Plumbing services which is trusted by more than 650,000 people. We are just a call away. 058 4394 7644, 058 1102663
Residential Air Conditioning Installation Services
Home cooling comes in different shapes and sizes. Depending on factors like your desired temperature, the climate in which you live, and the number of anticipated cooling days per year, you may choose to cool your home with any of the following installations:
Central air conditioning
Split-duct and mini-duct ACs
Evaporative cooler and swamp coolers
Window and wall unit air conditioners
What does AC Installation Require?
Air conditioning installation will vary depending on the type of cooling unit selected. Keep in mind that:
If you're replacing an existing unit (of any kind) with the same type of AC, installation will likely require less reconfiguration.
Central air conditioning units require ductwork. Ductless split AC systems are a great option for homes without existing ductwork.
Adding any type of AC to your home will also help to reduce humidity levels.
It's vital that you select an air conditioner that is appropriately sized for your home.
AC Installation and More
At We 4 Maintenance Technical Services LLC (WE4M), we're known for our high-quality air conditioner installation, repair, replacement and maintenance services.
Once your air conditioning unit is installed and tested, it needs to be maintained. Nobody wants to replace an AC prematurely! Learn more about our maintenance and repair services. We'll follow the manufacturer's guidelines to keep your new unit in perfect working order for years to come.
Can't decide which air conditioning unit is best for your household? We can help with that too! Call (055 110 2663) or request an appointment online for air conditioning installation and service you can rely on.