Doorbell Camera Installation
Need a doorbell camera installed?
Join the contemporary connected world with a doorbell camera. You can answer the door from anywhere and keep an eye on what's happening outside.
Smart Doorbell Cameras
WE4M specializes in the installation of doorbell cameras. Smart doorbells are rapidly becoming a popular choice in UAE because they allow you to both keep an eye on the neighborhood like a standalone camera and answer the door in real-time wherever you are.
With years of experience in the industry, WE4M can provide a video doorbell tailored to suit your own personal needs. We can explain the ins and outs of the device and ensure it is working as it should. Smart video doorbells make it possible to chat with chance visitors on your phone when they ring the doorbell. You could be anywhere and still be able to answer the door!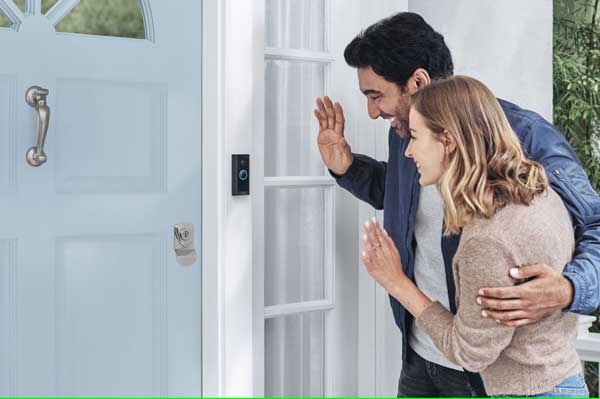 Doorbell Camera Benefits
The benefits of a Wi-Fi doorbell are as follows:
Detects motion and sends you a notification
Allows you to see and speak to visitors
Answer the door from anywhere
Keep an eye on any parcels
See what's happening in the neighborhood
Record any incidents
Enjoy extra security
Keep safe with night vision
WE4M hardwire your new smart doorbell so you never have to fiddle around changing batteries. Even if there is currently no wire to the position you want the doorbell to be, we can make it all good. In no time you will be able to answer the door on your phone or tablet.
FAQs - All you need to know about Doorbell Cameras
Smart cameras in your doorbell allow you to both screens unwanted visitors and communicate directly with wanted visitors no matter where you happen to be.
A doorbell camera is a Wi-Fi-enabled device that has motion detectors, a camera, and a speaker. It allows you to remotely answer the door from anywhere and record any activity in the camera's view.
When someone pushes the button, it chimes like an ordinary doorbell.  You can answer it in an ordinary way or you can answer it on your phone or tablet wherever you happen to be.
Bluetooth variants are also available.
Doorbell cameras do not necessarily need a Wi-Fi connection. If your carrier allows video streaming and you have a 4G connection, the video doorbell is still fully functional wherever you have coverage.
Doorbell cameras can be connected to your existing wiring and chimes, but also communicate with your phone when rung. You can answer on your phone, see the visitor and conduct a conversation in real-time. Most video doorbells also record what is happening once activated by motion and/or the doorbell being rung.
We operate around the clock, 7 days a week, including public holidays. So whatever time, day or night, we can install, service or repair your new device. Contact us today to find out more! 058 4394 7644, 058 1102663